Water Damage Restoration Toronto
Water damage can begin in a matter of seconds. It is highly important that when flood water damage occurs that you contact a licensed water damage restoration company immediately. United Water Restoration Group's water damage remediation team will provide a quick response to your property and ensure that it is dried out; removing any remaining water so that the restoration process can begin.
Since every situation is unique, our team of water damage experts will tailor their approach and ensure that the damage clean-up is done quickly and efficiently. We offer up-to-date and professional water damage restoration services in Toronto. If you start noticing water dripping or accumulating in your home or business, call the United Water Restoration Group of Toronto immediately. We are open 24 hours a day, 7 days a week including all holidays.
Water Restoration Services
Our team of water restoration experts will provide the following services:
– 24/7 Emergency Water Restoration Service
– Burst Pipe
– Water Extraction & Dryout
– Water Damage Clean Up
– Basement Flood Clean Up
– Sewage Backup Clean Up
– Mold Abatement
– Black Mold Removal
Did you know that water damage can become severe within minutes, hours or days? Mold starts growing after 48 hours following water damage. Therefore, to prevent secondary damages, it is recommended to call Toronto's top water damage restoration company.
Our highly trained technicians have over 14 years in this industry, helping thousands of home and business owners in restoring their water-damaged property. You can depend on us to provide certified water damage and flood restoration service, using state-of-the-art equipment to effectively assess and treat the damaged property.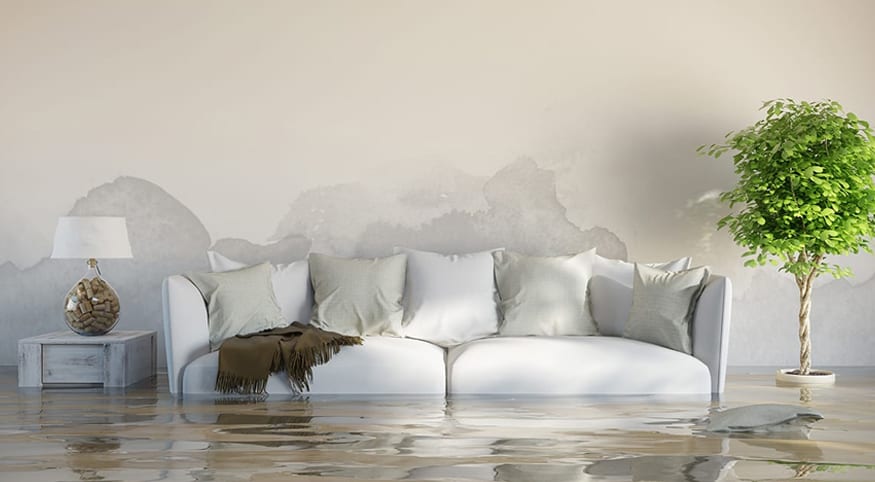 What Is Water Damage Restoration?
Water damage restoration is the extraction of standing water, cleaning the affected area, and drying or tearing out and replacing damp or saturated building materials and contents. Water damage can cause serious issues and concerns in an indoor environment if not properly extracted. The remediation of water damage should be swift and effective within the first 24-48 hours, to minimize any long-term or permanent damage to the property. Regardless of the type of water damage, the clean-up process needs to be speedy for effective damage mitigation.
The main reason for a quick response in these situations is the fact that standing or ponding water that is left untreated can increase the risk of mold. To ensure that mold doesn't develop in a water damage situation, it is best to treat the affected area within hours and not wait days or weeks. It is important to contact a professional immediately and remove the water to decrease any chances of mold growth.

Damage cleanup and restoration should be undertaken by highly trained technicians, except in the case of minor damage that can be quickly fixed and thoroughly dried.

If you're experiencing water and flood damage to your home and business, please contact United Water Restoration Group of Toronto. We are your choice for Toronto's water damage restoration company. We have access to pumps for extracting large amounts of water and debris, and a full range of cleaning and drying equipment to restore your property to pre-loss condition.

24/7 Emergency Response
Water Restoration Services
What Causes Water Damage?
There are 3 most common causes of water damage: leaky appliances, damaged roofing or broken plumbing. We categorize the severity of water damage based on the level of contamination in your property.
Water damage from drain backups is quite common in Toronto due to the aging plumbing infrastructure and can have a hard time handling heavy amounts of rain causing it to back up into your property.  
Damage from burst pipes is also quite common, especially in the winter months and below-freezing temperatures causing pipes to burst. Cracks in your foundation can cause water to enter through your basement walls. 
Flood damage due to sewage backup is another common problem as they can prevent sewage water from making its way out to the sewer main, causing the water to backup into your house or building.
We categorize the severity of water damage based on the level of contamination in your property.
Water damage is a result of when clean water leaks from a broken pipe or supply line.
Water damage involves contaminated, non-potable great water from a leaky bath, roof, toilet, shower, or appliance that might contain chemicals and microbes.
Water damage incidents involve highly contaminated floodwater or sewer backups that might contain solid waste.
Water Damage Restoration Process
Are you experiencing emergency water damage in your home or business? 
Don't hesitate to call us 24 hours a day, 7 days a week including all holidays.
From the moment you give United Water Restoration Group of Toronto a call, we'll assemble a team of highly trained technicians and ensure an operation manager is onsite within the hour.
The water damage restoration process begins with a careful inspection of the causes, degree and extent of damage in your home or business. 
When the inspection is completed, our highly trained technicians will provide an estimate of costs anticipated for cleanup and rebuilding.
Before we attempt to clean, repair or remove any materials or content in your home or business, we highly recommend that you thoroughly document the damages in photographs and videos. This is important because listing losses, gathering receipts, or other purchase information, may make an insurer more likely to cover a water damage claim.
Our highly trained water damage restoration experts will eliminate as many effects of the water damage as possible. We call this phase mitigation as we improve conditions and limit the severity of damage in your home or business. The extraction and cleanup starts and rebuilding can commence as soon as the cause of the primary effects of water damage has been resolved.
Managing an emergency flood clean-up can prove to be quite challenging, that's why we only use the latest technology and techniques to restore your home or business. Our water damage restoration team of professionals provide quick 24/7 emergency response services in Toronto and across the GTA and be at your home or property within an hour.  Call us today at (647) 931-4203 and speak to one of our representatives.