Water Damage Restoration Oakville
Water damage is one of the most common problems a property owner may endure. Water damage has no specific season. It can strike at any moment, during any season of the year, during any time of the day. This makes it one of the most dangerous and common events. After experiencing water damage in Oakville, you'll want assistance from professionals. UWRG of Oakville's water damage remediation team provides a quick response and assistance to help return your property back to its pre-loss conditions. 
Since every water damage experience is different, our water damage specialists will tailor their approach to your situation. In times of emergency, our certified and trained water damage experts can be at your property in under an hour, ready to help! If you notice a water leak or drip, contact United Water Restoration Group of Oakville immediately at (647) 931-4203. We are open 24 hours a day, 7 days a week, 365 days a year.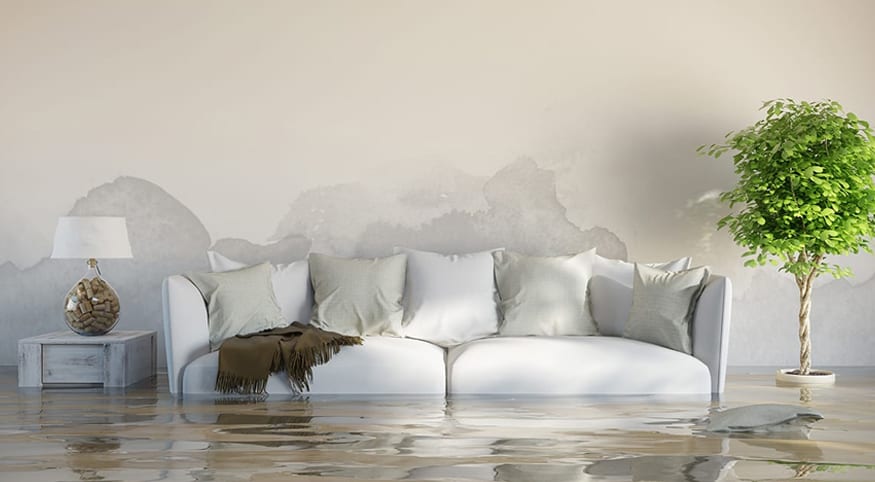 Water Restoration Services
Our team of water damage restoration specialists can provide the following water damage services in Oakville:
– Water Damage Cleanup

– Black Mold Removal & Remediation

– Mold Abatement

– Basement Flood Cleanup

– Sewage Backup Cleanup

– 24/7 Emergency Water

– Damage Restoration

Water Dryout & Extraction

– Burst Pipes
A slow water leak can quickly turn into a much bigger problem. Whether that takes a matter of seconds, minutes, days, or even months depends on the problem. Mold is another problem that may result from unaddressed water damage. After experiencing water damage, mold colonies can start growing in as little as 24 hours. A professional water damage company in Oakville can help identify this problem and prevent it from spreading and spiraling. 
Our technicians are highly trained and certified to handle any level of water damage restorain Oakville. We have helped thousands of property owners in restoring their water-damaged properties, commercial or residential. When handling a water damage situation in Oakville, you know what to expect when dealing with our technicians. You can depend on us to handle water damage and flood restoration. Our technicians use industry-leading techniques and industrial, specialized equipment. This allows us to return your property back to a state of normalcy in a responsive manner.
What is Water Damage Restoration?
Water damage restoration is not only the removal of standing water, that's only a part of our water damage restoration process! We extract standing water, clean and clear affected areas, and dry out affected items and materials. Water damage can cause serious problems at your property and should be addressed immediately. Further deterioration of affected materials, drastically reduced air quality, and the potential for mold growth make this a problem you'll want to address sooner rather than later. 
It's crucial that you begin the water damage restoration process in Oakville as soon as possible. Responding within 24-48 hours allows us to begin work and prevent further damages or lingering problems. Standing water opens the door for mold spores to gather and create mold colonies. A mold outbreak is the last thing you need while handling water damage restoration. Not only does this cause your problem to double, but your insurance coverage may also lapse and not provide coverage anymore. 
Water damage should always be addressed and handled by trained professionals. Our technicians are able to identify the source of the problem as well as hidden damages. We have the tools to find hidden water damage and hidden mold colonies. If the job goes incomplete, it is likely that further damages will be sustained to your property. 
Are you experiencing water damage in Oakville? Contact UWRG team of specialists! We are Oakville's #1 water damage restoration company and can assist in returning your property back to its pre-loss, normal conditions. 
What Causes Water Damage?
There are three common events that come to mind regarding water damage: damaged roofing, broken plumbing, and leaky or malfunctioning appliances.
In Oakville, cold, below-freezing weather is rather commonplace. Burst pipes most commoccur as harsh weather persists. A burst pipe can cause massive damage to your property in only a few seconds.
Water damage from drain backups is another common problem a property owner may experience. This can be due to natural blocks or an aging pipe infrastructure growing more and more unstable over time. Regardless, a drain backup will cause water to surge back into your property. Depending on the severity of the backup, the damage can be devastating in a matter of seconds.
Flood damage caused by sewage backups is another common issue. A sewage block can prevent sewage water from draining. This causes a backup to happen, which can cause severe damage in a matter of seconds. Sewage backups pose a serious concern and should only be addressed by professionals. 
Water damage has several types of categories that define the type of water involved in the damage. These are the categories of water damage:
Water in this category is generally clean and clear. This type of water damage typically results from a supply line or a broken pipe. 
This type of water damage can be potentially hazardous and carry chemicals or microbes. This water is murkier and clear than category one. 
Category three water damage involves murky, dark water. This type of water damage is commonly referred to as black water due to its appearance. Category three water damage generally comes from a sewage backup and is filled with contaminants. You should always avoid this type of water and contact professionals for assistance. 
Water Damage Restoration Process
Are you experiencing water damage in Oakville at your home or business? Call us now, we are available 24 hours a day and can assist you through every step of the water damage restoration process!
From the moment you contact us, you are in the hands of trusted professionals. The water damage restoration process in Oakville involves the following:
The first step in our water damage restoration process starts with a thorough inspection of your property. Once the inspection is complete, our certified technicians will provide with you an assessment and a plan of action. 
Before we begin cleaning or removing materials, we suggest thorough documentation of the damages. This will help provide a clear image of your damage. This is an important step of the process. Gathering receipts and listing losses can help you get the property funds you need from your insurance provider. 
Our trained water damage restoration experts in Oakville will eliminate all noticeable signs of damage. This step of our water damage mitigation process allows for our technicians to begin removing and restoring affected materials or items. The extraction and cleanup process allows us to remove, clean, and sanitize areas affected by water damage. Rebuilding and construction may begin once the source of the water damage has been fixed to prevent further damage. 
Managing an emergency flood cleanup can be challenging as a property owner. We know how difficult water or flood damage can be to handle at your property. While these events can come and go in a matter of minutes, they may displace you or uproot your life for months. The goal of our water damage restoration services in Oakville is to get your property back to normal in a timely and efficient manner. We want to address all damages and return your property back to a state of normalcy. 
We know how hard these situations can be, especially if this is the first time you've experienced it. If you're experiencing water damage in Oakville, we can help. Contact our service line at (647) 931-4203 to get in direct contact with one of our trained technicians.