Water Damage Restoration
in Markham
Water damage can disrupt your life in a matter of seconds. This form of damage can quickly destroy your property's structural integrity and personal belongings. When water impacts your property it's important to seek assistance from a licensed water damage restoration company immediately. United Water Damage Restoration Group's highly skilled technicians can quickly remediate and restore your property back to pre-loss conditions in no time.
When our technicians arrive on property, they will get to work swiftly to repairany water damage that has occurred. While each job is unique, our technicians will adapt each project to ensure the damage is fully treated. Our professionally trained IICRC certified technicians in Markham offer up-to-date methods for treating and mitigating commercial and residential water damage.
If you suspect you have water damage from signs of dripping, stains, or even standing water inside your home contact us immediately. Our highly trained technicians cover the Markham area and are here to assist you with a problem of any size. Our experts are available 24 hours a day 7 days a week for when you need us most.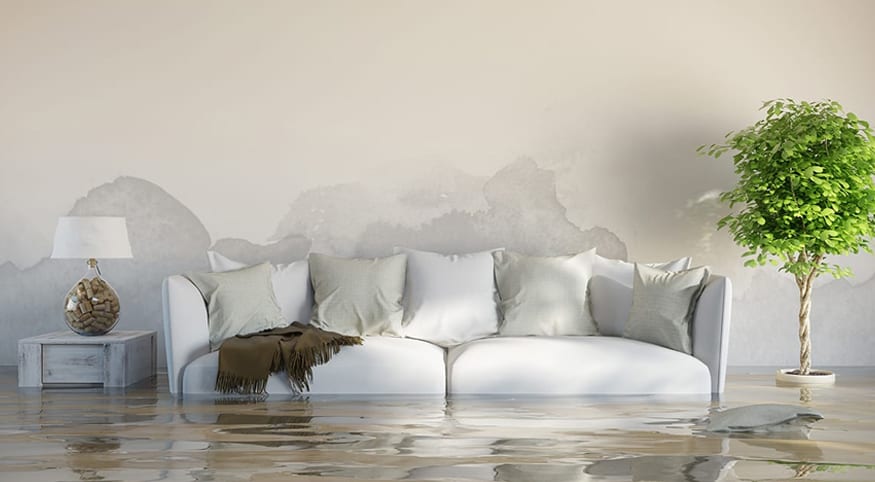 Water Restoration Services
Our local restoration technicians in Marham provide the following services:
– 24/7 Emergency Service

– Water Damage Clean up

– Water Mitigation & Dryout

– Basement Flood Extraction

– Sewage Backup Clean Up

– Mold Removal & Abatement

– Black Mold Restoration
Water damage can become a tremendous issue in a matter of minutes to hours. If the water becomes too saturated in a structure for long periods of time, mold can sprout. In order to prevent secondary damage to your property, it is recommended to call Markham's top water damage restoration company.
We have over 14 years of experience in the industry, making our team dependable for a disaster of any size. Our technicians will always provide premier service using state-of-the-art equipment to effectively assess and treat damaged property. United Water Restoration Group in Markham is your local go-to for water damage mitigation.
What Is Water Damage Restoration?
Water damage restoration is the mitigation of standing or absorbed water from your property. After drying or tearing out the damp, affected area then it must be cleaned followed by replacing the contents or drying out any saturated parts. Water damage can equate to serious damage if not treated promptly. United Water Restoration Group recommends that the remediation of water damage should be begun within the first 48 hours to minimize any permanent damage. Regardless of how the damage occurred, it needs to be speedy and effectively cleaned up before any other damage results.
Quick response when handling water damage is essential to making sure the affected area does not promote mold growth. If standing water is left untreated for an extended amount of time, it can increase the potential for mold growth. Contact United Water Restoration Group immediately to have one of our professionals come out to your property and perform a FREE visual assessment.
If your home or business has recently experienced flood damage, please contact us as soon as possible. We are Markham's locally-owned premier water damage repair company. Our company utilizes a variety of machines to extract water, dry out materials, and purify the air in order to restore your property back to pre-loss conditions.
24/7 Emergency Response
Water Restoration Services
647-931-4203
What Results in Water Damage?
Our water damage experts have listed three of the most common cause of water damage below:
Drain backups are very common in the Markham area. As a result of older piping infrastructure, drains can become backed up and result in water damage. Storm retention drains can also have trouble dispersing water if they become too backed up, resulting in your property becoming flooded if the storm drains are overwhelmed.
Burst pipes can be very difficult to foresee. When a pipe in your house burst immediate action is necessary in order to preserve as much of your home or business as possible. Water damage from burst pipes can seep into many parts of your property, making extraction difficult without professional tools. It is ideal to investigate your pipes during the winter months to make sure none of them have become cracked.
Flood damage as a result of sewage backups is a category three water damage issue. These must be taken care of immediately as exposure to toxic elements can occur if not handled properly. Sewage backups occur when the water is unable to travel through the drain system, making its way back up into your home or business.
Our water damage repair technicians categorize water damage based upon contamination levels in the water and the source.
Category one water damage is a result of a broken pipe or supply line.
This type of water damage involves possibly contaminated water from bathtubs, toilets, showers, or anything that has exposure to chemicals and microbes.
Category three is water that is highly contaminated. This type of water damage should never be assessed without proper gear as it results from solid waste and contaminated floodwater.
Water Damage Restoration Process
If you are experiencing a water damage emergency do not hesitate to contact us immediately. We are here for you 24 hours a day 7 days a week.
From the moment you contact our local office servicing the Markham area, you will become in contact with a team of highly trained IICRC certified technicians who will be onsite within an hour.
The water damage restoration process begins with a thorough inspection of the property to assess the cause of damage and the degrees to which your property was affected.
Before we clean, repair, or remove any of the affected materials from your property, we recommend you thoroughly document the damage. Whether by both photographs or video, both are extremely helpful in recording your losses. These will make your insurance more likely to cover water damage materials affected by the claim with hard evidence.
Our highly skilled restoration technicians will effectively mitigate all effects of water damage from your property. Each of our technicians will mitigate and dry out the water to improve your property's conditions, reducing the severity of the damage. Once all water has been extracted, clean up and rebuild can commence.
Overseeing an emergency flood clean-up project can be extremely challenging, this is why we provide only the most modern technology as ways to combat these damages. Our 24/7 accessible technicians will restore your home or business back to pre-loss conditions as soon as possible. Give us a call at (647) 931-4203 to speak with one of our experts in the Markham and GTA area.