Crawl Space Mold Remediation in Toronto, Ontario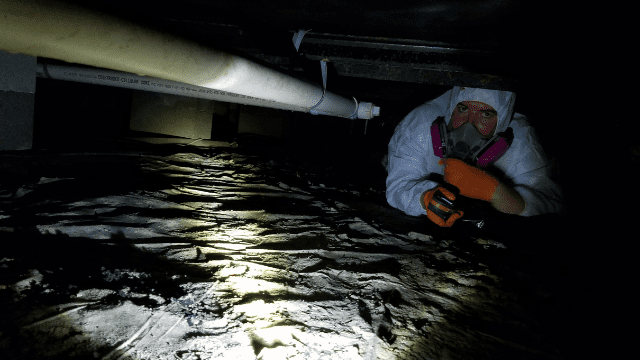 Do you know what's down in your crawl space? If you're lucky, it's only foundational supports and various ductwork that leads back into your property. But the location of crawl spaces and its close proximity to the elements makes it a potential hotbed for one of a property owner's biggest headaches; mold infestation. 
Mold is an unfortunate part of owning a property and it's something that can go unnoticed for a long time. If you own property, you're likely to encounter mold at some point and when that time comes you're going to want the best technicians on the job. 
Today United Water Restoration Group of Toronto, Ontario, Canada would like to break down the ins and outs of a crawl space mold remediation project.
Inside Crawl Space Mold Remediation
If you have reason to believe you have mold in your crawl space, or you have confirmed it, contact our team at (647) 931-4203. 
After speaking with a trained team member who will ask you a few basic questions about the situation regarding the mold, our expert technicians will be dispatched to your property to begin crawl space mold removal.
Inspection and Assessment
Once they've arrived our mold experts will begin to examine the crawl space. Areas outside of the crawlspace but nearest to the mold infestation will also be inspected to make sure any spread of the mold is properly tracked. Your crawl space mold removal is about to begin.
To prevent the spread of mold, mold-infested areas will be isolated and contained through the use of a negative air method.
Through the use of high-powered vacuum systems and HEPA filtration, mold spores are filtered from the air. This will restore the air quality to safe levels.
Mold-infested areas undergo extensive antifungal and antimicrobial treatments to combat existing mold and prevent mold reformation.
Your crawl space mold remediation is coming to a close as materials that were damaged by the mold infestation are replaced.
Contact Us
When you find yourself in need of crawl space mold remediation, contact the professionals at United Water Restoration Group of Toronto, Ontario, Canada using our service number (647) 931-4203. 
We're available 24 hours a day to take your call, and we're standing by to help you take on your crawl space mold remediation project today.