7 Signs of Hardwood Floor Water Damage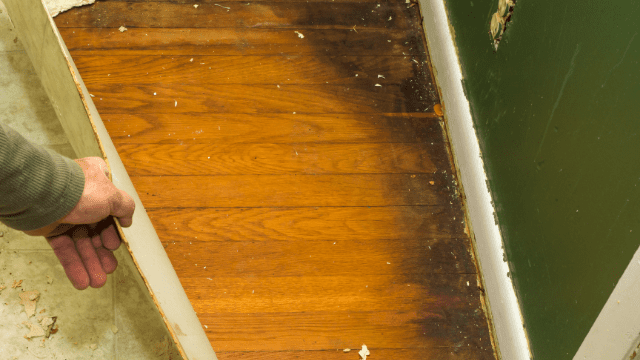 Whether your home just suffered a flooding incident or you've moved into a new home with creaky wood floors, you should know the key signs of hardwood floor water damage in a Toronto home. That way you can spot the damage and get it fixed as soon as possible.
United Water Restoration Group of Toronto would like to cover seven signs of hardwood floor water damage you might see in your home.
Stains or Discoloration
Water damage can leave almost-black stains, dark discoloration, and fading on your beautiful hardwood floors. And since wood has a grain pattern, you should regularly inspect your floors for these spots. That's because once these spots appear, the damage is done and the planks will likely need replacing.
Soft Floorboards
If your floorboards feel bouncy or like they could break under your feet, you could have rot in your hardwood. This is a sign of severe and prolonged water damage that could even have impacted the sub-flooring, too.
Swelling
When hardwood absorbs water, the planks can swell, pushing against other planks, lifting them, and leaving an uneven surface. Water can sneak into these new cracks, trapping moisture under the floorboards and causing more damage.
Warped Planks
Some planks won't swell, but rather they'll cup, buckle, or bend, leading to an uneven surface on your floor. This, too, can lead to water getting trapped under the floorboards to cause even more water damage, including to sub-flooring and lower-floor ceilings.
Lifted Nails or Floorboards
One of the first signs you may notice is lifted boards or nails. These are both signs of swelling in nearby planks and prolonged water damage.
Mold Growth
Black, gray, green, or other discolored spots on or between the planks of your hardwood floor aren't typical patterns in the grain. During your regular inspections, be on the lookout for these spots, which could be mold due to prolonged water damage.
Fixing Hardwood Floor Water Damage in Toronto
If you spot any of these signs, you should call a trusted water damage remediation company to inspect and effectively fix the damage in your home. And when you do need this service, trust United Water Restoration Group of Toronto. You can call us 24/7 at (647) 931-4203 for a free, in-home assessment.